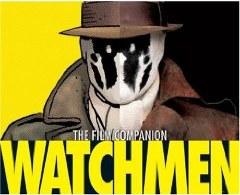 It is the most eagerly awaited comics-to-film adaptation of them all. The graphic novel that changed an industry is now a film, directed by Zack Snyder (300), and "Watchmen: The Official Film Companion" is the essential guide to this cinematic event. A complex, multi-layered mystery adventure, "Watchmen" is set in an alternate 1985 in which costumed super heroes are part of the fabric of everyday American society. When one of his former colleagues is murdered, the masked vigilante Rorschach sets out to uncover a plot to kill and discredit all past and present super heroes. Their mission is to watch over humanity...but who is watching the Watchmen?Featuring exclusive interviews with the cast and crew, and scores of photos, this is the comprehensive guide to the new movie event.
Paperback: 176 pages
Publisher: Titan Books Ltd (6 Feb 2009)
Language English
ISBN-10: 1848560672
ISBN-13: 978-1848560673
Product Dimensions: 27.6 x 22.7 x 1.4 cm
Ad blocker interference detected!
Wikia is a free-to-use site that makes money from advertising. We have a modified experience for viewers using ad blockers

Wikia is not accessible if you've made further modifications. Remove the custom ad blocker rule(s) and the page will load as expected.