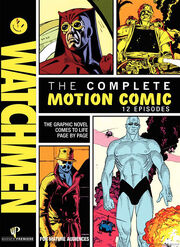 Watchmen The Complete Motion Comic is a movie that was released 2 days before the live-action Watchmen film came out. It was released on both DVD and Blu-Ray.
Plot
It is the novel as a movie, except a few parts have been cut out. It is all narated by one person.
Release
The movie excited a lot of people. It came out on DVD and Blu-Ray. The DVD version came with the film on 2 discs (6 episodes each). The Blu-Ray version came with the digital copy and the presentation on 1 disc. It also came with a paper that was $7.50 off to see Watchmen (it has now expired). It runs for 5 hours and 25 minutes. The usual price for the movie is $30.
Ad blocker interference detected!
Wikia is a free-to-use site that makes money from advertising. We have a modified experience for viewers using ad blockers

Wikia is not accessible if you've made further modifications. Remove the custom ad blocker rule(s) and the page will load as expected.