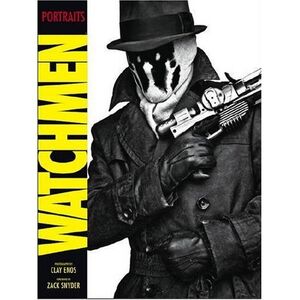 Description
As the official photographer on the set of "Watchmen", Clay Enos was there at every stage of production as director Zack Snyder filmed the adaptation of the legendary graphic novel. As well as his day-to-day duties making sure there was a visual record of the production, Enos also made time to work on a very special project: a collection of black-and-white portraits of every character in the film, and every crew member in the production.From the lead heroes, including Rorschach, the Comedian, Dr. Manhattan, Nite Owl and all the other Watchmen, to supporting characters and even extras in the crowd, plus the crew who put the film together, his lens captured them all. With its wealth of exclusive photographs, this stunning book is a unique look into the world of the film. Clay Enos is a rising star in portrait photography. Whether it s his Streetstudio project, far-flung adventures, New York nightlife or celebrity portraits of Sting and Green Day, Enos brings many styles and unbridled enthusiasm to his subjects.
Hardcover: 192 pages
Publisher: Titan Books Ltd (23 Jan 2009)
Language English
ISBN-10: 1848560699
ISBN-13: 978-1848560697
Product Dimensions: 36 x 25.6 x 3.4 cm
External links
Ad blocker interference detected!
Wikia is a free-to-use site that makes money from advertising. We have a modified experience for viewers using ad blockers

Wikia is not accessible if you've made further modifications. Remove the custom ad blocker rule(s) and the page will load as expected.