Ad blocker interference detected!
Wikia is a free-to-use site that makes money from advertising. We have a modified experience for viewers using ad blockers

Wikia is not accessible if you've made further modifications. Remove the custom ad blocker rule(s) and the page will load as expected.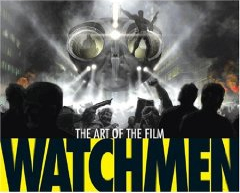 Description
Discover how director Zack Snyder and his crew faithfully recreated the intricately detailed world and characters of the legendary graphic novel in the eagerly awaited film adaptation.From the New York City of an alternate 1985 to the surface of Mars, the film adaptation of "Watchmen" is a triumph of design, filled with unique characters and layer upon layer of arresting detail.Featuring scores of production designs, set photos, costume sketches, storyboards and other pieces of conceptual art, "Watchmen: The Art of the Film" is a lavish celebration of a comic book made real.
Hardcover: 256 pages
Publisher: Titan Books Ltd (6 Feb 2009)
Language English
ISBN-10: 1848560680
ISBN-13: 978-1848560680
Product Dimensions: 28.8 x 23.6 x 2.8 cm
Links