Utopia is a cinema which played mainly retro sci-fi movies.
Most likely it was owned by
Veidt Enterprises
, and used to subconsciously prepare the people for the
Alien Monster
and a danger from space.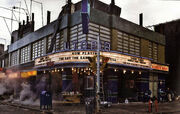 After that event, Utopia was renamed as New Utopia. One of the first movies it showed was Tarkovsky's The Sacrifice, a Swedish film about an upcoming holocaust and peoples' reactions to it.
The name Utopia signifies the theater's role in Veidt's plan.