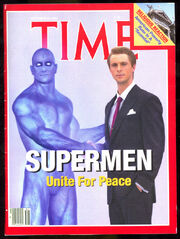 TIME is a real-life weekly American newsmagazine.
In August of 1985, there was an issue on "Hiroshima Week". Its cover had a frozen wristwatch on the time the bomb fell and had pictures of the burned victims.[1][2]
Dr. Manhattan and Adrian Veidt are on the cover of an issue of TIME.
References