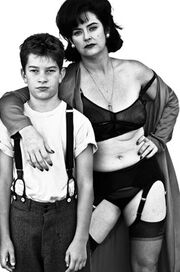 Sylvia Joanna Kovacs
(nee Glick) was the wife of
Peter Joseph Kovacs
and mother of
Walter Kovacs
.
After they moved from Ohio to New York, Sylvia and Peter divorced amidst mutual accusations of adultery and mental cruelty. Sylvia changed living places in a number of low-rent apartments. Her son Walter was conceived by an unknown father (presumably it was some "Charlie" who abandoned her two months prior to the birth). Sylvia became a prostitute in order to survive which became a point of derision against young Walter. This was the reason that Walter partially blinded an older kid by sticking the kid's lit cigarette in his eye and brutally biting his friend.
Walter was put into the Charlton Home while Sylvia continued being a prostitute in the Bronx; later her then current pimp, George Paterson, forced her to ingest some 'Drano' cleaning fluid, and tossed her body in a back alleyway. (Rorschach is later implied to have killed George Paterson because of this.)
Ad blocker interference detected!
Wikia is a free-to-use site that makes money from advertising. We have a modified experience for viewers using ad blockers

Wikia is not accessible if you've made further modifications. Remove the custom ad blocker rule(s) and the page will load as expected.