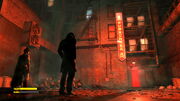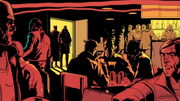 The Rumrunner is a shop near Moloch's house. Its logo are two mirrored R's forming a skull above crossbones. It is in view from the Chrysler building.[1] The neon sign flashes between cold and warm lighting, creating a flashing effect outside Moloch's house and his bedroom.[2]
It was the joint of Bikers. Looking for Underboss, Nite Owl II and Rorschach make their way to the Rumrunner, busting a gang on their way, and question one of the patrons to find out who orchestrated his escape from Sing Sing.[3]
It had a Hiroshima lovers graffiti after 21 October.[1]
Symbolism
Much action concerning Rorschach happens near this building and its sign. The symmetric skull-logo contrasts Rorschach's mask with its symmetrical shapes.
The name refers to Rum-running. The reference to rum, along with the skull-and-crossbones logo, suggest that the bar is pirate-themed, like much of the pop culture of the world of Watchmen.
References