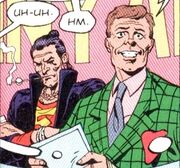 Red D'eath is the lead singer of the Pale Horse band. He is seen wearing a Knot Tops fashion.
In anticipation to the concert in Madison Square Garden, he appeared in Benny Anger's show on the evening of October 25.[1]
Trivia
The name is a reference to the expression Red Death, originating from a story by E.A. Poe.
References