"This is a war, Laughing Boy."

—{{{2}}}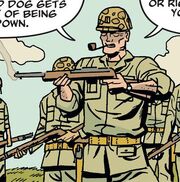 The Captain commanding
Henderson Field
in
Guadalcanal
during
World War II
. He didn't think much of
Eddie Blake
, known as the Comedian, or the bureaucrats who sent him because of his former career in the
Minutemen
.
When Blake returned from his mission with reports about Japanese snipers, he ordered the artillery to raze the area and ignored Blake's mention about a woman and her child living as scavengers who saved his life. After the bombing the woman emerged mutilated from the fires holding her dead son, only to get a mercy shot from Peterman.
The next night Blake snuck into Peterman's tent and slit his throat with a Japanese bayonet. Nonetheless, Peterman opened his eyes.[1]
References
Ad blocker interference detected!
Wikia is a free-to-use site that makes money from advertising. We have a modified experience for viewers using ad blockers

Wikia is not accessible if you've made further modifications. Remove the custom ad blocker rule(s) and the page will load as expected.