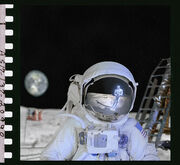 Mr. Gorsky was a neighbor of Neil Armstrong when he was little. When he landed on the moon he mumbled to himself, wished Mr. Gorsky good luck.
Background
"Mr. Gorsky" is the subject of a joke, subsequently urban legend, having to do with (a fictional) Armstrong's childhood neighbor and his wife who promised him to have oral sex when that boy ever went to the moon. On his landing on the moon Armstrong allegedly remembered that event and said "Good luck Mr. Gorsky". For more information on this joke, see here
This legend is referenced in the movie introduction.
Ad blocker interference detected!
Wikia is a free-to-use site that makes money from advertising. We have a modified experience for viewers using ad blockers

Wikia is not accessible if you've made further modifications. Remove the custom ad blocker rule(s) and the page will load as expected.