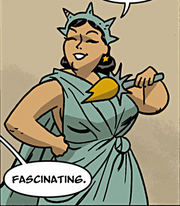 Liberty Lassy was a woman that wished to become a costumed adventurer. For that, she tried to reply to the advertisement by Captain Metropolis and Silk Spectre. She claimed that her abilities were singing, dancing and cooking and she was cut during the audition.[1]
References
Ad blocker interference detected!
Wikia is a free-to-use site that makes money from advertising. We have a modified experience for viewers using ad blockers

Wikia is not accessible if you've made further modifications. Remove the custom ad blocker rule(s) and the page will load as expected.