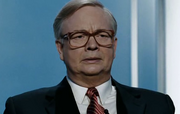 John McLaughlin is the host and presenter of a political commentary show with Eleanor Clift and Pat Buchanan as panelists. In October 1985, they commented about that day's nuclear tests by the Soviet Union near Alaska.
Behind the scenes
McLaughlin is portrayed by Gary Houston.
McLaughlin's real-life show with Clift and Buchanan, The McLaughlin Group is not mentioned by title in the movie.
External links
Ad blocker interference detected!
Wikia is a free-to-use site that makes money from advertising. We have a modified experience for viewers using ad blockers

Wikia is not accessible if you've made further modifications. Remove the custom ad blocker rule(s) and the page will load as expected.