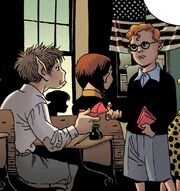 A schoolboy from
Edgar Jacobi
's village an his classmate. It seems that he hated him like everyone else. On Valentine's Day he was appointed by their schoolmistress to take each one's Valentine's Day cards and distribute them to the person they are addressed.
[1]
References
Ad blocker interference detected!
Wikia is a free-to-use site that makes money from advertising. We have a modified experience for viewers using ad blockers

Wikia is not accessible if you've made further modifications. Remove the custom ad blocker rule(s) and the page will load as expected.