Ad blocker interference detected!
Wikia is a free-to-use site that makes money from advertising. We have a modified experience for viewers using ad blockers

Wikia is not accessible if you've made further modifications. Remove the custom ad blocker rule(s) and the page will load as expected.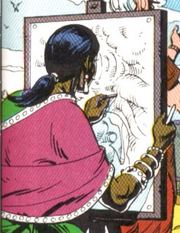 Hira Manish
(d. November 2, 1985) was an Indian surrealist painter. She was married with two sons but had prominent difficulties with her marriage. She disappeared four months after
Max Shea
as part of Adrian Veidt's plan to create the
Alien Monster
, for which she apparently contributed at least part of its design.
She had some affair with Shea. Eventually she was killed like the rest of the artists' and scientists' team.