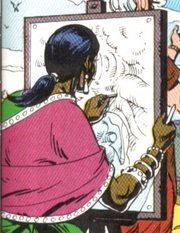 Hira Manish
(d. November 2, 1985) was an Indian surrealist painter. She was left-handed. She was married with two sons but had prominent difficulties with her marriage.
These problems were attributed to her disapparance in 1983 however New Frontiersman connected her disappearance with Max Shea's (she disappeared 2 months within he did) and of other creative figures around the same time.[1]
She was taken secretly to Veidt's island and worked on the creation of the Alien Monster, contributing on its appearance thinking it was for a movie production.[2] Apparently during her stay there she had some affair with Shea.
When the creature was ready and a ship of Pyramid Deliveries was coming to take it, Hira needed some final studies fo the facial assembly and the workers lifted the tarpaulin so that she could sea the beak structure. She hoped they would keep it properly refrigerated on the voyage. When she finished drawng, she and Shea went to fare well their "baby".
Eventually she was killed like the rest of the artists' and scientists' team.
References
Ad blocker interference detected!
Wikia is a free-to-use site that makes money from advertising. We have a modified experience for viewers using ad blockers

Wikia is not accessible if you've made further modifications. Remove the custom ad blocker rule(s) and the page will load as expected.