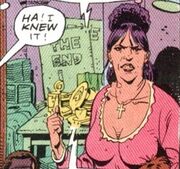 Dolores Shairp
was
Walter Kovacs
' landlady. She had five children by five different fathers, and Kovacs suspected that she cheated on welfare.
[1]
Her neck often had purple bite marks; Kovacs claimed that she reminded him of
his mother
.
[2]
It is suggested she is a prostitute because when Kovacs calls her a whore, she tells him that he children "don't know".
[3]
She often complained about his stench and rent.
[1]
[2]
When it was revealed that Kovacs was really Rorschach, Mrs Shairp told the press that he had made sexual advances to her, although this was a lie, and also called him a "Nazi pervert". She showed to the camera his stock of right-wing New Frontiersman issues.[4] After Kovacs' subsequent escape, he accosted Shairp about this slur on his reputation, but did not attack her, presumably because her children were present.[3]
References
Ad blocker interference detected!
Wikia is a free-to-use site that makes money from advertising. We have a modified experience for viewers using ad blockers

Wikia is not accessible if you've made further modifications. Remove the custom ad blocker rule(s) and the page will load as expected.