Ad blocker interference detected!
Wikia is a free-to-use site that makes money from advertising. We have a modified experience for viewers using ad blockers

Wikia is not accessible if you've made further modifications. Remove the custom ad blocker rule(s) and the page will load as expected.
Captain Axis was a Nazi operative, active during World War II.
An enemy of Nite Owl's, who eventually beat him.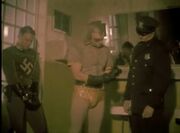 Afterward, Axis was surrendered over to the authorities.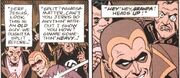 When Mason was being beaten to death by Derf and the other Knot-Tops, he imagined himself fighting Axis and the rest of his past enemies