Captain Axis was a Nazi operative, active during World War II.
An enemy of Nite Owl's, who eventually beat him.[1]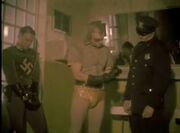 Afterward, Axis was surrendered over to the authorities.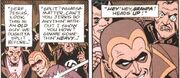 When Mason was being beaten to death by Derf and the other Knot-Tops, he imagined himself fighting Axis and the rest of his past enemies.[2]
Trivia
Captain Axis is possibly based on Captain Nazi.
References