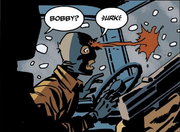 Bobby
was a member of a gang of robbers. During the holidays of late-1930s they stole money and he was driving their van.
Nite Owl I
was on patrol and ran towards the van and entered it. One of his colleagues tried to shoot at him, but the bullet hit Bobby on the head, causing the van to lose control.
[1]
References
Ad blocker interference detected!
Wikia is a free-to-use site that makes money from advertising. We have a modified experience for viewers using ad blockers

Wikia is not accessible if you've made further modifications. Remove the custom ad blocker rule(s) and the page will load as expected.