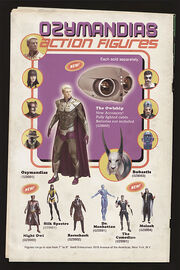 Known Range
Adrian Veidt after retiring from masked adventuring created a line of action figures based on his friends and enemies during his time as an adventurer.
(OZ0001)
Ozymandias: Is fully poseable with removable cloak, tunic and headband and accurately portrays Adrian Veidt's Physique.
(OZB003): Bubastis. A fully poseable replica of Ozymandias's pet mutant lynx
(OZ0002)
Rorschach: Is fully jointed and poseable and has a removal hat and trenchcoat.
(OZB001): Rorschach's grappling gun. Is an accesory for the Rorschach model, and is capable of firing a spring loaded miniature hook and a length of line.
(OZ0003)
Nite Owl: Has a removable cowl and belt, and is fully poseable.
(OZB002): The Owlship. Assembled from existing Photographs, the built to scale model has an accessible fully lighted interior and a fully detailed cabin.
(OZ0004)
Moloch: Comes with a detachable handgun and magicians jacket.
Ad blocker interference detected!
Wikia is a free-to-use site that makes money from advertising. We have a modified experience for viewers using ad blockers

Wikia is not accessible if you've made further modifications. Remove the custom ad blocker rule(s) and the page will load as expected.